Professional, English-speaking guide

All meals will be provided (breakfast, lunch and dinner)

Drinking water while on safari (2 litres per person per day).

Fly in safari in Ruaha National Parks
Overview
Our 3 Days Fly in safari in Ruaha National Parks is one of the best and most rewarding tour that you can take if you are interested in the most authentic wildlife safaris. It doesn't get wilder than being on a wildlife safari in the middle of Ruaha National Park.
Ruaha has one of the best well-kept wild landscapes in Africa, which is comprised of beautiful rocky escarpments and green hills scattered with baobab that serve as a natural habitat to a great diversity of wildlife which include (10%) of the world's lion population, the third biggest population of the Wild dogs, and one of the top four largest populations of Cheetahs in East Africa. Looking for an authentic Tanzania safari? Ruaha is your best bet!
3 days Fly in safari to Ruaha National Park brief itinerary
Your fly in safari adventure to the Ruaha National Park from Dar es Salaam or Zanzibar will be as per the below outlined itinerary. This program can be sent to you by our safari experts in its detailed form. Free customization is possible.
Day 1: Take a morning flight from Dar es Salaam / Zanzibar to Ruaha National Park. Afternoon safari. Overnight at a lodge or camp.
Day 2: Spend the day exploring Ruaha National Park by 4×4 safari jeep. Walking safari included. Overnight at a lodge or tented camp.
Day 3: Morning Game Drive, transfer to the airstrip for your flight back to Dar es Salaam or to Zanzibar Island.
3 Days Tanzania Safari to Ruaha National Park; Getting there.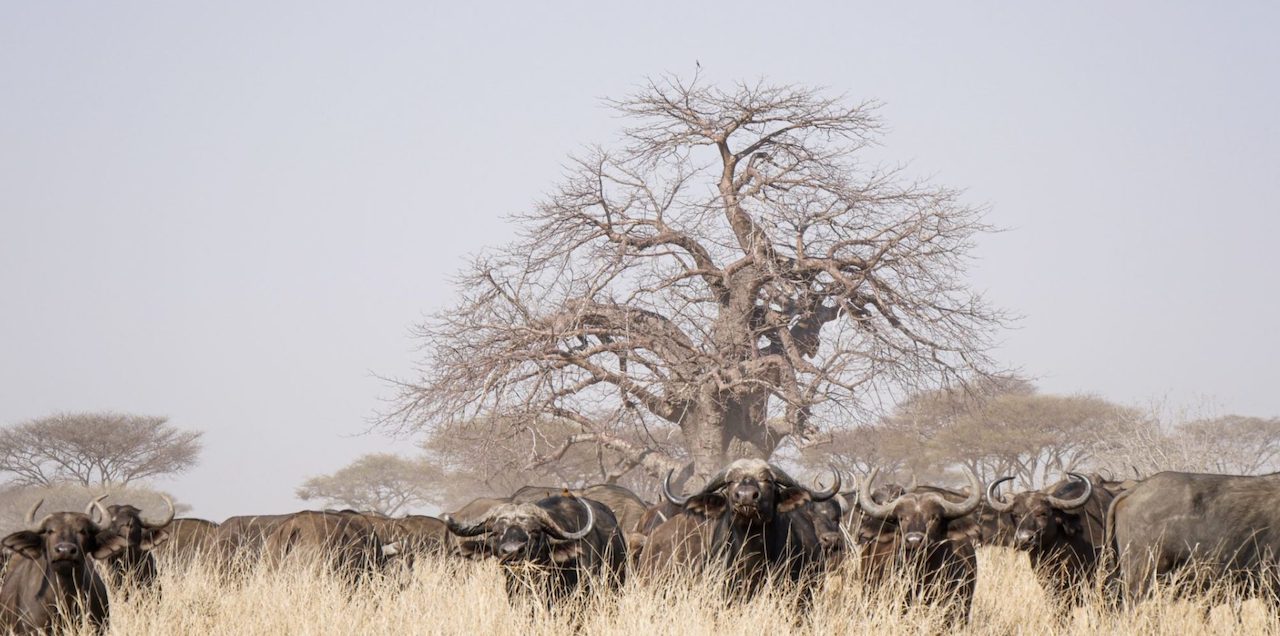 Ruaha National Park is located in the Southern Safari Circuit of Tanzania but it is further towards Central Tanzania, and driving from Dar es Salaam to the park can be a herculean task. From Dar es Salaam or Zanzibar, the park is best reached by flight. There are a few aviation companies that fly into and out of Ruaha National Park so booking the 3 days Ruaha safari early is highly recommended. Getting flight availability on last minute, especially during the peak safari season, can be very tricky.
It is worth noting that the same safari package in Ruaha National Park can be combined with safari tours in the Northern Circuit, thanks to the new flight routes that have been introduced by a few companies. There are flights now that link Ruaha National Park with Northern Tanzania, through Arusha Domestic Airport and Seronera Airstrip, as well as other airstrips in the Serengeti.
Activities on your 3 days Ruaha Safari from Dar es Salaam or from Zanzibar
You will do at least 3 safari game drives on this safari during which you will explore the off-the-beaten tracks of this amazing park in nice four wheel drive (4X4) safari vehicles.
You expect to spot a great diversity of wild animals such as: giraffes, grant's gazelles, defassa waterbuck, the less and greater kudus, zebras, impalas and the sable antelope, in addition to a number of predators. Apart from the traditional safari game drives on a safari jeep, Ruaha National Park also allows for walking safaris as well as night game drives.
One walking safari will be included in the package that you book, but for the night game drives, you can book on arrival at the camp. If you are sure that you will be interested in doing the night game drive, please inform our Southern Tanzania safari experts when making your booking, so that we can arrange everything up front. The earlier you book the better for you.
3 Days Ruaha fly-in safari; Where to stay?
This  3 days Ruaha National Park Safari can be offered by staying in the midrange or standard luxury or deluxe lodges or tented caps depending on your preference and your budget. The published package includes accommodation in an upper midrange lodging which is a nice tented lodge located inside the park.
The same safari package can also be done by staying in midrange accommodations that are mostly located  outside the parks's gates but still within the buffer zones which are wildlife areas with regular visits by wild animals at the camps.
You may also stay at more luxurious lodge sand camps incase you wish to have an upgrade and stay in some of the most luxurious accommodations in Ruaha. Please get in touch with our experts for more advise and customization of your next 3 days safari adventure in Ruaha National Park.